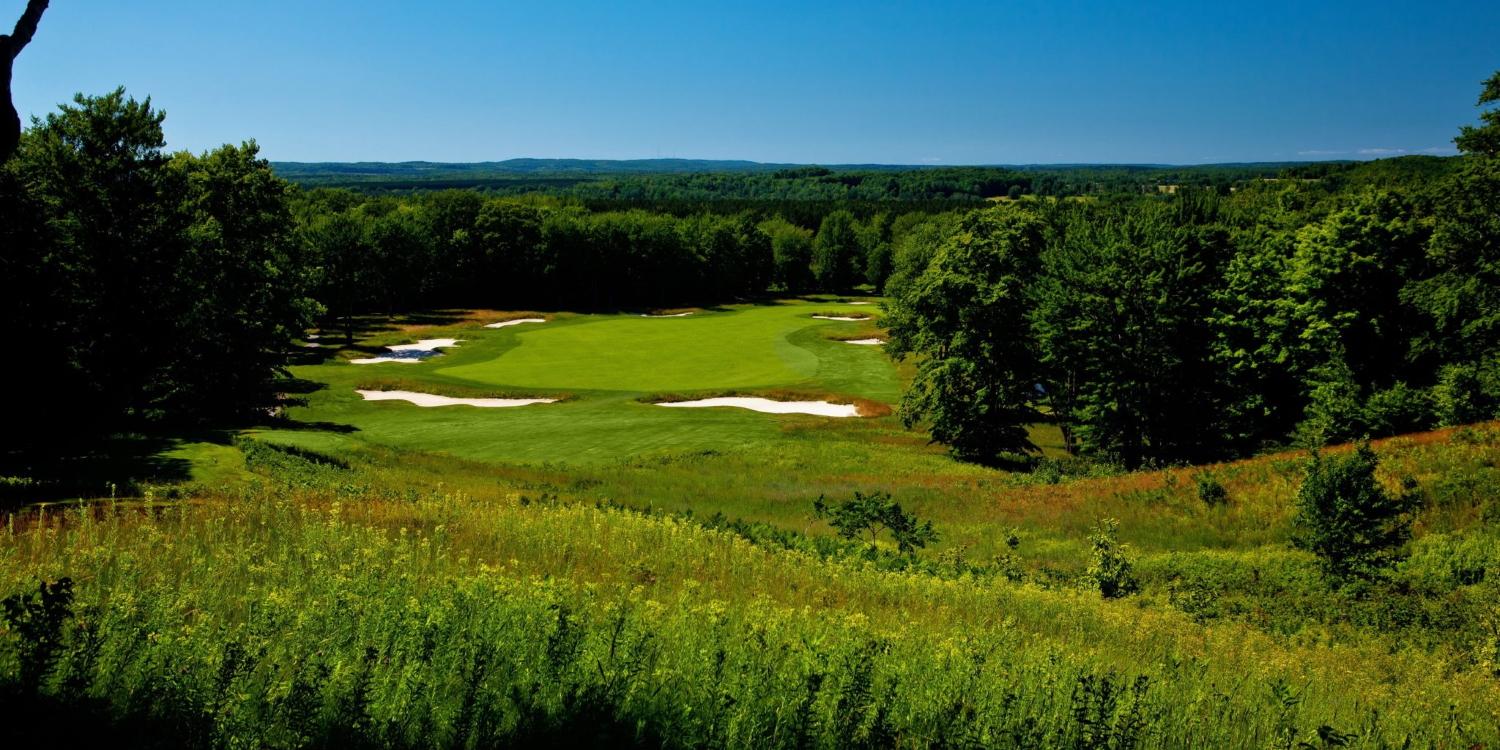 America's Premier Summer Golf Mecca...Gaylord, Michigan!
15 Spectacular Courses & 20 Lodging Facilities
By Ed Stone
Gaylord is alive with adventure!

The topography and climate of Northern Michigan is ideal for golf. Gaylord is blessed with beautiful terrain and breath-taking scenery. Strategically placed, 15 spectacular golf courses and 20 outstanding facilities create this Golf Heaven. Of course, that's just for the late spring, summer and early fall. The winter offers some of the best snow skiing, snowboarding and outdoor activities one could want.

To appreciate this small community, now called Michigan's Alpine Village, we need to take a quick look at how Gaylord arrived at this point.

In 1987, a colorful and flashy auto industry supplier and NASCAR team owner named Harry Melling purchased a rather outdated local ski resort called Sylvan. He hired the legendary golf course architect, Robert Trent Jones Sr. to build the 18-hole golf course called the Masterpiece. Jones would give the old resort a new name, Treetops. By having Jones design the course, it gained national recognition. Treetops would become the lynchpin to the development of more competitive courses wanted to equal the Masterpiece.
Gaylord is blessed with beautiful terrain and breath-taking scenery. Strategically placed, 15 spectacular golf courses and 20 outstanding facilities create this Golf Heaven.

Moving forward some 30-plus years and you now have the Gaylord Golf Mecca being highly promoted by the successful Gaylord Tourism Bureau and the State of Michigan. They report some 300,000 rounds of golf each year with a revenue from golf at some $17 million.

The location of Gaylord is ideal for those wanting to play golf in the summer in cool temps and at reasonable prices. Securing a tee time is not a problem with such a selection of courses to choose. Just off I-75 in the heart of the Northern Lower Peninsula, you can reach just about any of the 15 Golf Mecca courses in 20 minutes. The Cherry County, Traverse City Airport is a little over an hour away and served by Delta, American and United with connections through Detroit, Dallas and Chicago.

GoGolfandTravel.com had an opportunity to visit the Gaylord area and to play most of the Golf Mecca courses. The following is a summary of the courses we visited and played. Our accommodations were at the Treetops Lodge and the Otsego Resort.

The Tradition at Treetops Resort: One of the few golf courses to allow walking, if you prefer. The greens are very nice and fairways are wide open. As you would imagine, the tees are not too far from the previous green. Rick Smith is the architect and did a nice job in not making it too difficult for the average golfer. The Tradition offers five sets of tees with combinations being two of them. The yardages will stretch from 6,357 to 5,530. There's one par 5 on the front nine and three par 3's on the back, creating a total of par 70 for the course. Holes five and eleven create the top two handicap holes and both are par 4's. Visit website:www.treetops.com

Gaylord Golf Club: This course dates back to the early 1920's when an Englishman named Wilfrid Reid was brought in to design and build it. In 1975, it moved to its current location. This is one of those courses you never get tired of playing and always look forward to a return round. From Clubhouse to tee to fairway to green, the experience is first-class and enjoyable. This is a parkland-style layout offering 6,497 yards from the tips and 5,248 from the forward tees.. Visit website: www.gaylordgolfclub.com

Tribute at Otsego Resort: Founded in 1939, Otsego Resort is now under new ownership since August 2018. The Tribute has all the makings for being in the top two or three courses in the Golf Mecca group. With the exception of some of the greens, this was one of our favorites on this trip. The take-away from this course is beautiful vistas with 20+ mile views, challenging layout and wow, what a golf course! Designers for the Tribute are Rick Robbins and Gary Koch. They used all the tools in their chest to showcase the Sturgeon River Valley. From the tips at 7,347, this may be the longest in the Golf Mecca collection. If you can only play two or three in the area, be sure to play this one. (The Classic is also located at Otsego Resort and is not quite as demanding as the Tribute.) Visit website: www.otsegoresort.com

Threetops at Treetops: Consistently, it is regarded as the number one par three golf course in the World. Having played quite a few, I would agree. You must be a long hitter and accurate to not have to use all clubs in your bag. Again, Rick Smith created this outstanding layout and is to be commended on his design. He used the elevations to give a par three course character and challenge. This course has hosted most all the top PGA tour golfers for the past several decades...the likes of Palmer, Player, Chi Chi and many more. Visit website: www.treetops.com

The Signature at Treetops: When Rick Smith and his trusty companion Divot took on this project as his first 18-hole design, little did he know it would become his top shelf creation of a championship course. He was then an employee of Treetops as a golf instructor. He had already designed the Threetops par 3 course. When you play the Signature at Treetops be sure bring along your "A Game." Visit website: www.treetops.com

Black Lake Golf Club: Rees Jones was tapped to create and design this most enjoyable course. He built it so that the majority of the greens are higher than the approach shots to the green. Black Lake is owned and operated by the United Auto Workers and as expected most of the employees are former and/or current members of the organization. The course is efficiently operated. Five sets of tees give yardages ranging from 7,035 to 5,049 and a par 72. Here the fourth and 17th holes serve up handicaps one & two, both testing par 4's. Moving from greens to tees, you'll see beautiful under growth of bracken ferns underneath tall pines and cranberry bogs. Visit website: https://www.blacklakegolf.com (Read additional article on Black Lake.)

Indian River Golf Club: Affectionately called the friendliest golf course in the north, I agree! It was founded in 1921 for the local Columbus Beach community as a nine-hole course. It was designed by an Englishman named Wilfrid Reid who had been brought to the area to build the Gaylord Country Club. So, in 1984, additional land was acquired and the course was expanded to 18 holes. That architect was Warner Bowen. It is considered a Parkland-style course. Indian River offers seven sets of tees with two being combo sets. We only played the front nine and it was delightful with no holes to give you a beating or over challenging. The yardage ranges from 6,692 to 4,301, playing to a par 72. Holes 8 (forced carry over water at green) and 16 create the top two handicaps and both are par 5's. Water comes into play on #8 in front of green. Visit website: www.indianrivergolfclub.com

The Loon: Designed as a Butch Harmon signature course, The Loon will test every club in your bag. There's plenty of water, sand and forced carries to challenge all levels of golfers. Nice landscaping throughout the course allows you to enjoy a bit more scenery of a very wooded and well-manicured golf course. There is on-property lodging with a clubhouse serving excellent meals. The par 71 course stretches 6,701 yards from the tips and 5,121 from the forward tees. Challenging and most enjoyable. (There is also The Ridge course at the Loon Golf Resort. A beauty with spectacular views and challenging holes.) Visit website: www.loongolfresort.com

Michaywe Pines: One of those courses you never get tired of playing. Challenging, fair and fun to enjoy a round with friends and family. This course hosts the State's Amateur championships (1991 & 1997) as well as the Michigan's Junior Golfer tournaments. Excellent course conditions from tee to green. The AuSable River runs alongside the course framed by birch and pine. The 18th hole plays straight back to the clubhouse with only a couple of traps on left and right of green. Fairways are broad with pines skirting some five to twenty yards giving plenty of room for making an errant shot now and then. Some housing around the course, but not enough to distract from play. Visit website: www.michaywepines.com

The Natural: Designed by Jerry Matthews and sometimes referred to as "The Northern Charm." Matthews is noted for his sensitivity to the environment and preserving as much of the natural beauty as possible. The course is enhanced not only by the pleasing and challenging holes, but also by the rolling terrain and calming wetlands. The Natural at Beaver Creek takes you over hills, through trees and around bogs in a truly serene setting. The resort offer up very tasteful and comfortable Beaver Creek cabins with deck, fire pits and vistas. Visit website: www.thenaturalgolfcourse.com

EDITOR'S NOTE: The following golf courses round out the 15 in the Golf Mecca group. Unfortunately, our group did not have time to play these courses. Most of the copy is taking from their websites and other publications.

The Lakes: The Lakes at The Loon Resort is appropriately named because you play around some pretty little lakes. It also has a strong variety of holes though, and all of the par 3s are especially fun to play because the green settings add some drama. Visit website: www.loongolfresort.com

The Ridge: This little course in The Loon Resort group can be a challenge for stray shots. There are some carries over natural marshes, especially from the back tees. The good thing - you don't have to hit it long to play great and it's beautiful among the trees. Visit website: www.loongolfresort.com

The Classic: Showcasing as the first golf course at the Otsego Resort, this classic is a perfect place for the high handicapper and those wanting to get use to the changing elevations of Northern Michigan. Beginners, seniors, juniors and those who just want to have fun have a lot of fun here. Visit website: www.otsegoresort.com

Masterpiece: When Robert Trent Jones, Sr. took on the challenge to design and build a golf course on this terrain, it became his crowning glory and last one to build in the State of Michigan. He took full advantage of the Pigeon River Valley with the long vista and high elevations. The signature number six hole has a 120 foot vertical drop. This is the golf course that helped create the Mecca marketing idea and was the first course at Treetops that has a total of five courses. Visit website: www.treetops.com

Premier: Tom Fazio is probably one of the best known and top course designers in the U.S. and maybe the World. This is the only golf course he has designed in the State of Michigan. He took on the challenge and very much succeeded in creating a beautiful and challenging golf layout. When asked to designate a signature hole on the course, he simply stated, "all of them." It is truly a fun course and one you will remember playing for a long time. Golfers enjoy the forgiving fairways that feed the ball back to the middle. Visit website: www.treetops.com

My overall impression of the Golf Mecca courses our group played is that the Gaylord area is very blessed with a landscape perfect for golf courses with scenic and changing elevations. Except for the Treetop's par 3 course, hardly any of the courses have continuous cart paths. The roughs and fairways are so lush that driving in them does not damage the course. Practically all the courses have bluegrass in the fairways and roughs with bent grass on the greens. The temperatures are perfect for these grasses. All of the courses have nice clubhouses and none are pretentious. They all serve some type of sandwiches and/or meals with all serving alcohol.

Our dining experiences could not have been more enjoyable. Of note the places we dined were: Big Buck Brewery, Otsego's Alpine Tavern, Treetop's Vista Room and Bennethum's. All offer local cuisine, i'e, trout, walleye, etc. Click here to see a listing of all restaurants.
The town of Gaylord is inviting, clean and not overly themed to the alpine village motif. The Tourism Bureau is on the main street and easily accessible to visitors coming in to town needing maps and tourist information.

For those non-golfers, this is a paradise for biking, hiking, kayaking, boating and just about anything attached to the great outdoors. During the winter, this area offers a plethora of activities along with those accommodations and restaurants the golfing groups enjoy during the warmer months.

If you have a tendency to include a little trout fishing in your golf outing, the Gaylord area has some of the best in the Midwest. It's known that Otsego County, Michigan offers five streams flowing that are rated Class A: the Sturgeon, Black, Pigeon, Manistee and the north branch of the AuSable rivers. All streams are stocked by all-natural reproduction with big brown, brook and rainbow trout.

In the colder months, Gaylord turns into a virtual winter wonderland. Records indicate that some 180 inches of snow allows visitors to enjoy such activities as snowmobiling, cross country and downhill skiing, snowshoeing, ice fishing and even fat tire biking.

The town of Gaylord is inviting, clean and not overly themed to the alpine village motif. The Tourism Bureau is on the main street and easily accessible to visitors coming in to town needing maps and tourist information. Website: www.gaylordmichigan.net

Gaylord is alive with adventure!
Revised: 02/12/2020 - Article Viewed 284 Times
About: Ed Stone
---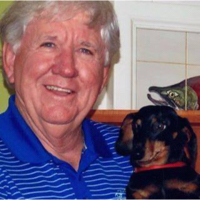 Ed has played golf on more than 350 courses in the United States and foreign countries. He loves the sport and enjoys promoting outstanding locations that helps to preserve the game.

With over 40 years of experience in the travel and hospitality industry, Stone has a wealth of knowledge and experience in tourism and attraction marketing. He has held director and vice president positions with Callaway Gardens in Pine Mountain, Georgia and Opryland USA in Nashville, Tennessee. For thirteen years he owned his own Marketing & Communications Agency, Stone & Associates in Hendersonville, Tennessee with major regional and national accounts.

Ed has major accomplishments in the areas of marketing, research and development planning, advertising, public relations, publicity, sales, television and event production. While vice president of marketing at the Opryland USA complex, he was the executive producer for several major television specials on NBC, ABC, CBS, TNN as well as working on many syndicated television specials.

He is a graduate of the University of Georgia's Henry W. Grady School of Journalism with a B.S. degree. Ed is a member of the Society of American Travel Writers (SATW) where he has been honored with Marco Polo status (the highest honored SATW can bestow upon an Associate member) and a trustee for the SATW Foundation.

He is the recipient of a coveted "SATW Bill Muster Photo Award" and the Central States Chapter of SATW has awarded Ed with over a dozen prize-winning photography awards in the areas of scenic, people and overall.

Ed is an accomplished photographer and an avid golfer. He lives in Tennessee in the summer and Florida in the winter.
---
More Articles by Ed Stone