Harbor Shores Golf Resort Review
Lake Michigan's Neighborhood Resort
By Matt Tevsh
Maybe the most incredible putt of Jack Nicklaus' legendary golf career was one that never counted on the scorecard.

It happened back in 2010 when Nicklaus, then 70 years old, was playing in a friendly skins match with Johnny Miller, Arnold Palmer and Tom Watson. To start the second nine, Nicklaus' partner, Miller, faced a putt so long that he thought there was no way he could use his putter to get the ball to the hole. Nicklaus wanted to prove otherwise. So, after a short discussion, he plopped down a ball at that spot.

Taking only a mild interest in reading the line of the 100-footer, Nicklaus gave it whack. It went left, and then climbed right up a 5-foot rise that would make the Valley of Sin jealous, before veering left again. About 10 feet from the hole, the ball was racing - which only added to the drama when it hit the back of the hole, popped up and went in. (Watch it here) The assembled crowd of thousands around the green exploded. Nicklaus just threw his arms up in response to Miller as if to say, "See, I told you."

The putt went viral and at least on the Google scale ranks above anything he holed on the back nine of the 1986 Masters, or any of his other 17 majors for that matter. Search "Nicklaus most incredible putt" and this singular snake will pop up first in a variety of media forms.

It all happened on the 10,500-square foot behemoth of a green at the Harbor Shores Golf Course during the grand opening event. As hallmark a moment as that was, Harbor Shores has had an even bigger impact on golf and the surrounding local community over the past decade. It has also hosted four Senior PGA Championships (and will host again in 2022 and 2024) and has a routing as wild as that Nicklaus putt itself.

"Where do you expect me to build this golf course?"
The story of how Harbor Shores came to be in the southwest corner of Michigan - Benton Harbor, 90 minutes from Chicago - has been well-documented through articles, videos, national news stories and even a coffee table book ("Teeing if Forward in Michigan's Great Southwest"). In short, the development of Harbor Shores took a combined effort from community groups, leaders and even major local businesses (Whirlpool Corporation has long been headquartered in Benton Harbor) to revive an area depressed by the loss of industry, jobs and its blue-collar personality. While signs of abandonment still exist in the "twin cities" of Benton Harbor and St. Joseph, some $900 million in strategic investments have made this spot along Lake Michigan spark again.

Building a world-class golf course was the big part of the plan. How to put that together proved to be difficult. The parcels of land imagined were not only separated, disjointed and split up by a winding river but also served as wastelands from an economy lost - most notably during the 1980s. There were dilapidated buildings, heaps of trash and toxic materials left behind. Many portions of it basically looked like dump sites.
Nicklaus, a designer of hundreds of golf courses around the world by then, was baffled. Summoned by the major parties involved to create a world-class golf experience there he memorably said in 2007, "Where do you expect me to build this golf course?"

Sure, there were potential features - including that winding river, some mature hardwoods, marshes and even a small sandy stretch along Lake Michigan. But it was difficult to see any of it through the industrial mess. There were roads and highways to contend with, too. The clean-up was monumental with over 140,000 tons of waste material removed.

Harbor Shores superintendent Nate Herman has referred to the different areas of the course now as "micro-environments." The scorecard breaks down these areas over 18 holes in sections called Inland (Holes 1-6), Dunes (7-9), Woodlands (10-13) and River (14-18). And whereas a typical golf course occupies up to 140 acres, the layout at Harbor Shores spreads out over 530 acres.

From the drive in to Harbor Shores to the journey around its 18 holes, an urban feel exists. Consider just some of this integration during a round and what it took to put all the pieces of the puzzle together:


Closely off the tee box on the artistically-bunkered, par-3 second hole is the Renaissance Athletic Club which includes a turf training field.


The Paw Paw River comes into play for the first time along the entire left side of the short, yet devilish par-4 third hole. On the opposite side of the river is the kayak and boat launch. Such outdoor recreation is as much a part of Harbor Shores as the golf.


Railroad tracks run the left side of the marsh on the exacting par-3 fourth and back the tee boxes on the par-5 fifth. On the other side of the tracks sits the beautiful eight-story Inn at Harbor Shores, setting the skyline looking back from the rollicking fifth green.


To get to No. 6, golfers take a long ride on the cart path through a marshy area, past a set of homes that look like something out of the Truman Show and across Klock Road. Harbor Shores has several different homeowner options and has worked with Habitat for Humanity to donate home sites, too.


To get to No. 7, golfers have a chance to stop at the Jack's Place Grill shack for a quick bite or refreshment before going under Highway 63 and along Grand Boulevard. The cart path then winds into another marshy area where the two back tee boxes for the signature seventh hole sit like lily pads.


The sharp, uphill approach and green at No. 7, which begins the Dunes stretch, sits atop a ridge. From there, Lake Michigan comes into view as well as heavily-trafficked Jean Klock Park. Bikers, walkers and beachgoers often frequent the Dunes portion of Harbor Shores. There is even a park rest stop right behind the back tee box atop another dune on the par-5 ninth.


To get to the inward nine, golfers will drive back under Highway 63 and past more residences along Higman Park Road to begin the Woodlands portion of the course. It provides a quick and sharp transformation from the previous three holes.


At No. 13, a similarly bunkered hole to No. 2, an abandoned house used to reside before the course was completely built. From the back of the green, a steep, curving cart path descends down some 50 feet behind the local favorite North Shore Inn Restaurant and around the North Pier Brewing Company. Golfers cross North Shore Drive to get to the tee boxes at No. 14 which sit adjacent to a parking lot. The Paw Paw River comes back into play along the right side to begin the River stretch and three of the most potentially penal holes on the course.


To finish off the round, golfers will exit the green on the par-3 17th and drive under North Shore Drive again where the clearance is barely high enough to fit a golf cart. Back along the Paw Paw River again, No. 18 finishes a long par-4 away from the clubhouse. To get "back home," golfers drive past an open field along North 8th Street and over another portion of the Paw Paw River again.


Harbor Shores is also the home to the First Tee of Benton Harbor which has a partnership with the Boys and Girls Club.
It all adds up to an experience unlike anything really in Michigan - if not getting from hole-to-hole then for the highest quality golf. Champions Tour player Bernhard Langer, who turned pro in 1972 and has played all over the world, called Harbor Shores one of the top 20 layouts he has ever played. Fellow pro Fred Funk noted the diversity of the land and said "aesthetically it's gorgeous." And Fred Couples said the Dunes holes are "as pretty as you're ever going to see."
"Michigan is known for great golf, but the southwest corner is often looked over - not anymore!" said Harbor Shores general manager Josh Doxtator. "We've really focused on expanding into other markets and sharing our story as much as possible. There's no question, in my mind, that Harbor Shores sits in the top 15 courses in the state and when groups are planning trips to northern Michigan they're now starting by playing Harbor Shores or finishing their trip with us. We're quickly becoming a sought-after, must-play destination."
On top of it all, Harbor Shores has public lodging that gives it a 1-2 punch worthy of anything Michigan golf's top tier can offer.
Champions Villas Opened in 2020
No Harbor Shores visit is really complete without a stay at one of the resort offerings. The previously-mentioned Inn (opened in 2014) offers 92 luxury guest rooms, a selection of dining options, full service spa, indoor and outdoor pools and a fitness center. It is also a popular spot for meetings and weddings.
A room on the south side will give guests a view of the St. Joseph River marina and the city of St. Joseph. There is even local whisky and gin to purchase in the rooms and local brews on tap at the classy Plank's Tavern off the lobby. The Grille at Harbor Shores is also a great option for lunch, dinner or sunsets. Rise and Vine offers an additional quick morning option.
In 2020, Harbor Shores unveiled its Champions Villa option (
https://www.harborshoresresort.com/golf/champions-villa
) adjacent to the clubhouse by the first tee boxes. The two units available to the public there offer a better setup for bigger golf groups (up to eight people) that may want to stay together. At 2,000 square feet there is plenty of room for privacy, however, with four bedrooms, each with separate baths. There is a common area living room, a full kitchen and an outdoor patio, too. Rates last year were discounted during the shoulder seasons.
For more information on Harbor Shores, visit
www.harborshoresresort.com
or call 269-983-1111 (the Inn) or 269-927-4653 (golf).
Revised: 01/04/2021 - Article Viewed 10,295 Times - View Course Profile

About: Matt Tevsh
---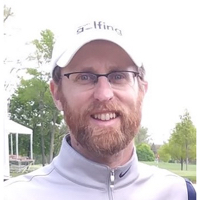 Matt Tevsh has been a freelance sports journalist since 1996. He has been published in multiple periodicals including Midwest Golfing Magazine and on various websites including GolfTrips.com. He is an avid golfer and a former member of the Golf Writers Association of America.
---
More Articles by Matt Tevsh